Bruise Cruise 2012 was a blast and a huge success! Celebrating its second year, the festival whisked away 500 rock 'n' rollers to the Bahamas and back on a three day tropical vacation full of fun, sun, debauchery and plenty of poolside libations. Attendees from all over the world met in Miami and boarded a cruise ship to sail the high seas with some of their favorite bands. In an environment with no back stage, bands and bruisers wined and dined together, fans witnessed live performances in intimate concert halls with names like Xanadu, lived it up for 24 hours in the Bahamas, and partied at a private island gig at Nassau's Senor Frogs where the drunkest indie rock conga line ended in a traffic jam.
Photo by Monica McGivern
Bruise Cruise is a unique festival experience, a floating rock 'n' roll adventure vacation bringing people from all over the world and multiple demographics together for one epic journey where social barriers are broken down and people unite. In 72 hours friendships were made, numbers exchanged, love connections initiated, bathrobes donned, and hundreds of mai tais, mojitos, and bahama mamas consumed. In addition to participating in one of the most action packed and positive vibe soaked musical weekends ever, attendees were able to witness the cultural movement that is the Bruise Cruise evolve and take life.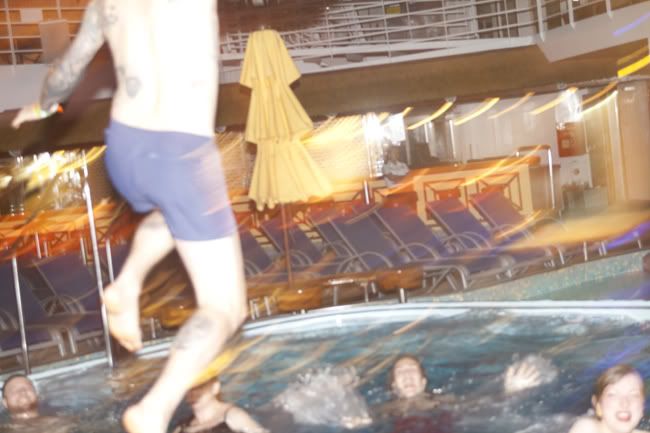 Photos by Jackie Roman
The 2012 lineup featured live performances from Fucked Up, King Khan and The Shrines, Thee Oh Sees, The Soft Pack, Quintron and Miss Pussycat, Neil Hamburger, The Togas (debut cover band featuring Ty Segall, members of the Strange Boys, Shannon and the Clams and Reigning Sound), Mikal Cronin and a special surprise performance from Kyp Malone of TV on the Radio. In addition to music and comedy, the festival featured a dance class by bounce artist Vockah Redu and multiple spoken word workshops by Jello Biafra of the Dead Kennedys.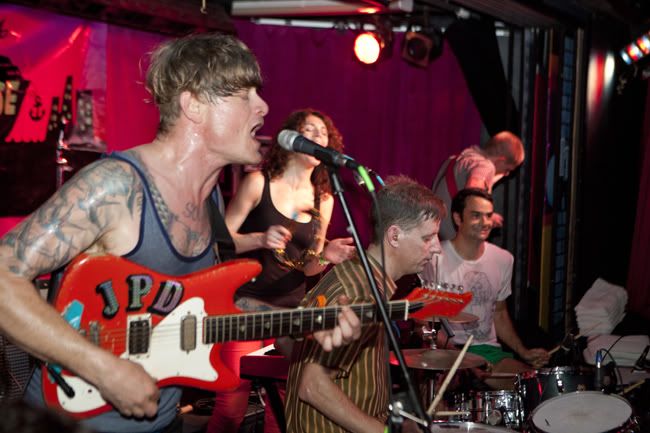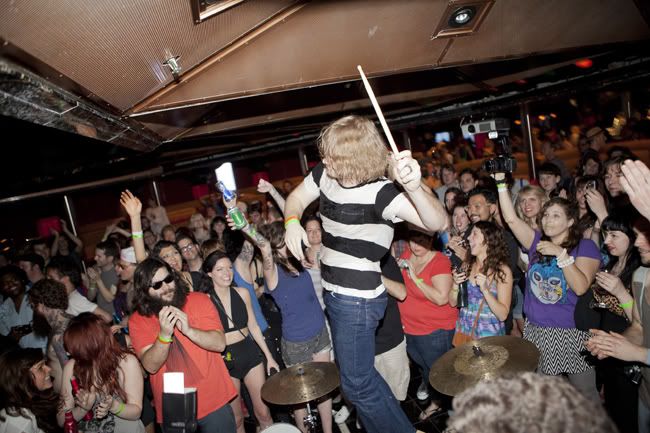 Photos by Jackie Roman
Bruise Cruise's very own version of The Dating Game was a huge success in matching up singles on board. Cruise Director Damian Abraham of Fucked Up hosted the show and helped pair up lovely couples. In the spirit of the perfect blend of game show and comedy, contestants who weren't selected after a round of answering five ridiculously mischievous questions, received the consolation prizes of musical vibrators from OhMiBod or dick towels from dicktowel.com. The winning couples won a date along with a year supply of condoms to use at their personal discretion.

Photos by Jackie Roman
Multiple late-night dance parties went down both in the Bahamas and on the ship. Late night Saturday at Senor Frog's, Jello Biafra threw down an impressive dj set with a mix of soul, garage, surf, and punk cuts with other "incredibly strange surprises". On the last night of the festival on the Lido Deck of the ship, Quintron debuted his swamp stack sound system comprised of shrimp coolers and palm fronds. Mixing garage, swamp boogie, and zydeco, Quintron united bruisers and normal cruisers on one sweaty dance floor underneath the stormy night skies as the ship sailed back to Miami.

Photo by Jackie Roman
Other surprises on board the ship included a late night piano bar performance in the Mirage bar by America's Funny Man Neil Hamburger with musical accompaniment by Ryan Sambol of the Strange Boys on piano. The impromptu set was an interesting twist on the final night of the festival as the unlikely duo who had never met until that night came together amidst the whiskey soaked piano keys and the smoky din of the bar.

Photo by Jackie Roman
Bruise cruise is thrilled to wrap up another successful year. Plans for round 3 are in the works and will be announced soon! A documentary on the festival is also in the making. For more info and to purchase Bruise Cruise merchandise including limited edition vinyl featuring Bruise Cruise artists that is now available to the public, please visit here.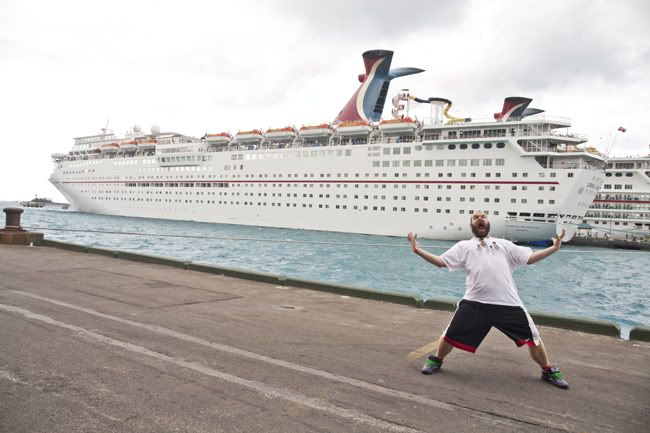 Damian Abraham, Cruise Director

Pro-Surfer Alek Parker hosts Mimosa Party

Michelle Cable & Jonas Stein, Bruise Captains & Organizers

Photos by Jackie Roman