Bruise Cruise Festival sails from Miami Fl to Nassau Bahamas Friday February 10-13, 2012. Tickets on sale here.
Bruise Cruise is ecstatic to announce a new addition to the lineup, a man who truly needs no introduction – Jello Biafra! The head prankster of 21st Century Renaissance Men, on a short list Biafra has worn the hat of musician (Dead Kennedys frontman); public speaker (first person tried for obscenities on a recorded album); record label jefe (co-founder of Alternative Tentacles); politician (Green Party candidate for Mayor of San Francisco and ran for a Presidential Nomination); and most recently released an album with his latest musical outlet, Jello Biafra and the Guantanamo School of Medicine entitled Enhanced Methods of Questioning.
But long before all this, since his teens Biafra has been a rabid vinyl junkie. Freshly inspired by a guest appearance on Mr. Jonathan Toubin's fabulous Soul Clap, Jello has reinvigorated his DJ-ing career, so we are thrilled to have him spinning wax for Bruisers from his very own and very personal collection, mixing together soul, garage, surf, punk cuts with other "incredibly strange surprises". And if dancing the night away to Biafra's twisted personal collection is not treat enough for you, he will be hosting a surprise lecture on board the ship. It might be a rant. It might be Q&A? It might be all or none of the above! But it will definitely be a moment to behold!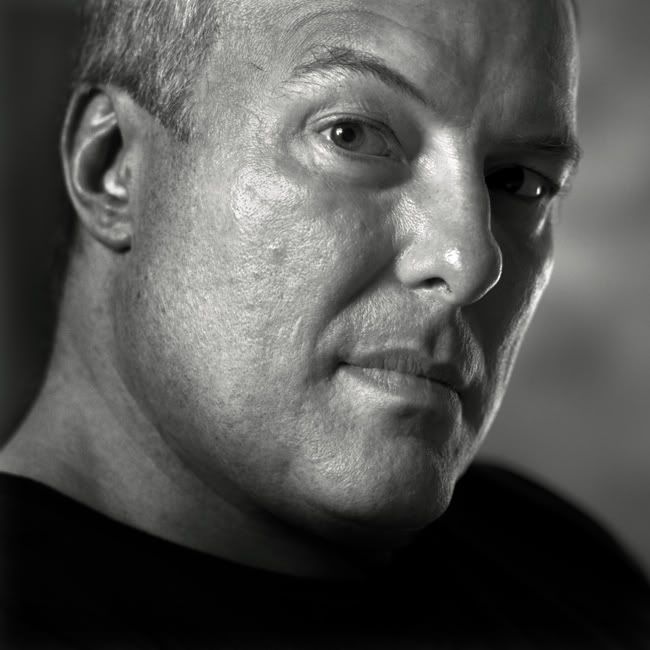 Bruise Cruise has teamed up with Pro-Surfer Dylan Graves for our latest Bruise Cruise promo video which offers tips and advice for passengers to maximize fun, sun and take advantage of all the amenities (e.g., free room, open bar hours, etc.) on board the cruise. Dylan was on board the inaugural Bruise Cruise last year with fellow Pro-Surfer / comrade Alek Parker. Check out the video here: http://vimeo.com/34271195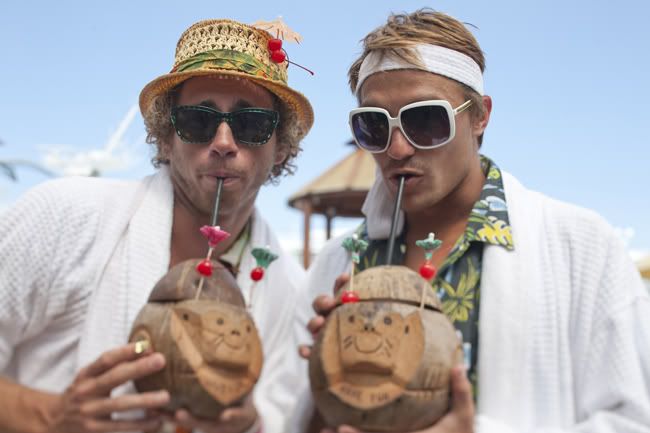 The festival's record label, Bruise Cruise Records, is excited to premiere the unreleased King Khan and the Shrines track "Bite My Tongue". The single will be part of a split 7" with Mikal Cronin. The 7" is part of a limited edition vinyl collection featuring artists from the 2012's lineup. Every attendee will receive one 7" in their complimentary gift bags. Artwork by Rob Corradetti [ www.killeracid.com ]
Soundcloud link here:
http://soundcloud.com/bruise-cruise/king-khan-the-shrines-bite-my
Bruise Cruise is excited to announce our official festival schedule featuring multiple concerts on board the ship and in the Bahamas, comedy hours, puppet shows, dance parties, karaoke, dating games, conga lines, advice sessions, lectures, dance classes, workout hours, and more! The 3-day tropical vacation is jam packed with the best musical entertainment and interactive activities to make this your ideal rock'n'roll adventure camp at sea.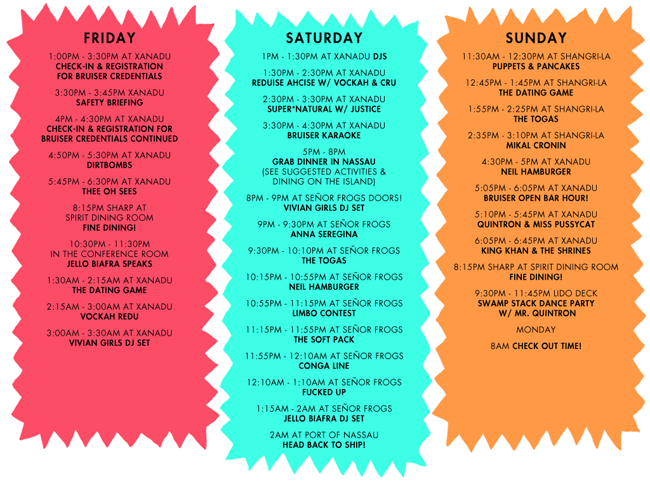 Bruise Cruise will be hosting not one but two Miami Kick-off parties on Feb 8 & 9, 2012 at the Stage. Miami's own Jacuzzi Boys will be performing on the second kick off party on Thursday Feb 9th. The lineups feature Bruise Cruise Artists like Fucked Up, Thee Oh Sees, King Khan & the Shrines, Quintron & Miss Pussycat, as well as Miami favorites Blowfly, Deaf Poets and more to be announced soon. Admission is free with your Bruise Cruise festival ticket. Two-day passes are available now. Ticket link here: http://fla.vor.us/wafform.aspx?_act=eventview&_pky=112826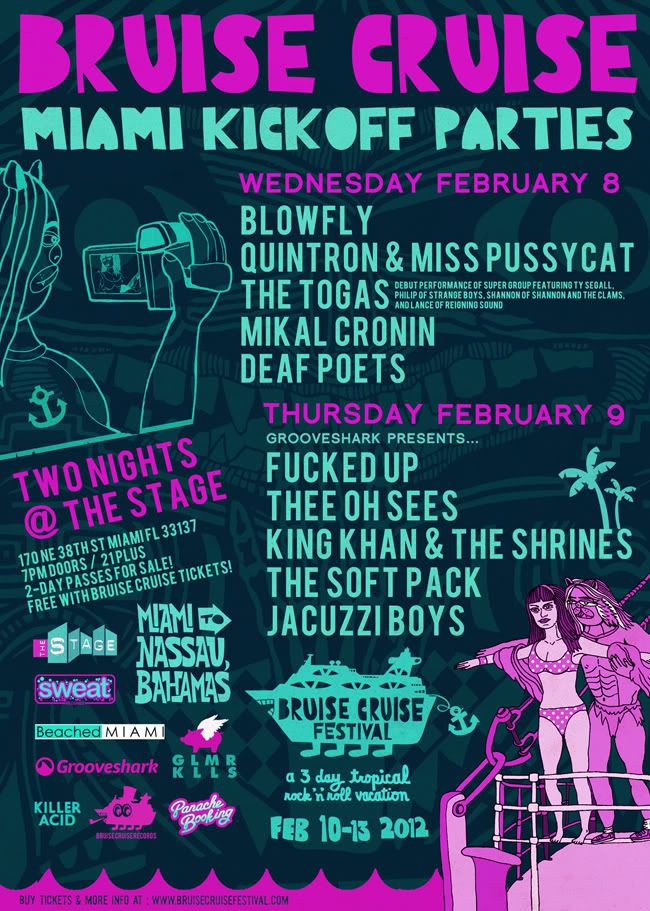 BC2's official lineup will feature Fucked Up, King Khan & The Shrines, The Soft Pack, The Dirtbombs, Thee Oh Sees, Quintron and Miss Pussycat, Jello Biafra, Mikal Cronin, The Togas, America's funnyman Neil Hamburger, Vockah Redu and DJ sets from Quintron, Jello Biafra & the Vivian Girls. Tickets are on sale now. It will sell out! Only 25 cabins left!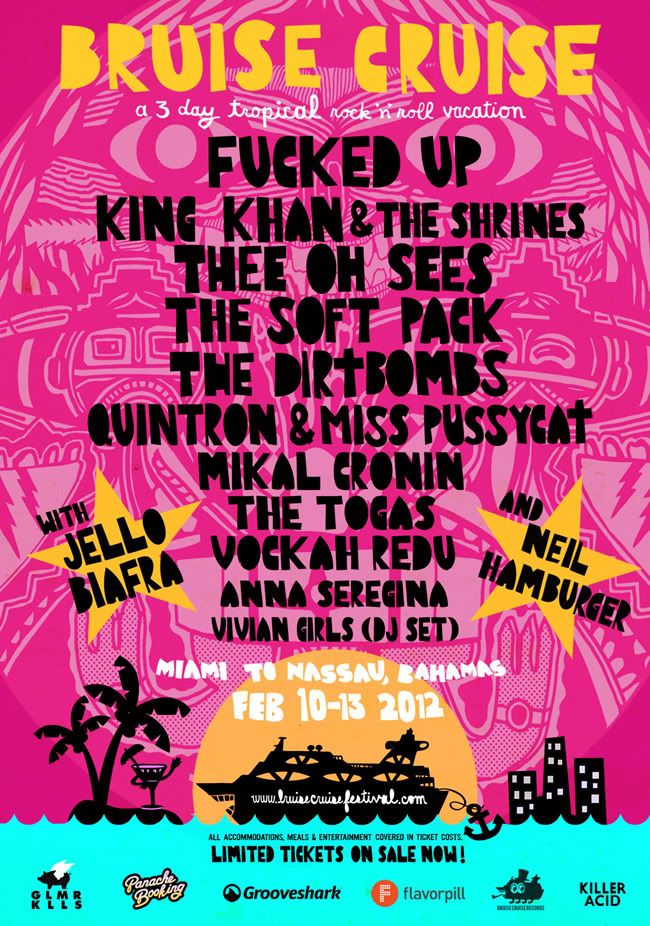 Bruise Cruise is an exclusive chance to experience the ultimate rock music getaway, taking the best elements of music festivals and placing them against the backdrop of a dream vacation. Artists and attendees will set sail on a three-day, tropical boat cruise offering true music fans the opportunity to witness – and lounge with – their favorite bands in a unique, intimate festival atmosphere.
Bruise Cruise 2 will include multiple concerts at sea, a private island party in Nassau, Bahamas, open-bar cocktail hours, a soul dance-off with cash prizes, comedy shows, lectures, workshops, and a puppetry breakfast hour with Miss Pussycat. Amenities featured on board include: A casino, resort-style pools, hot tubs, miniature golf, dance clubs, water parks, fine dining, all-you-can-eat buffets, and more. The price of one ticket will cover all entertainment, lodging, meals, limited-edition vinyl, Bruiser gift bags, and a limited supply of drinks.
TICKETS ON SALE NOW!
www.bruisecruisefestival.com