Bruise Cruise Festival sails from Miami Fl to Nassau Bahamas Friday February 10-13, 2012. Tickets on sale here.
Bruise Cruise is thrilled to team up with Flavorpill for a Cabin Giveaway Contest. One lucky couple will win a cabin [2 tickets] on board the Bruise Cruise to experience the vacation of a lifetime. You can enter here.
The festival has also announced a "Design a Bruise Cruise Postcard Contest", where contestants can illustrate their own Bruise Cruise postcard. Two designs will be selected to be used as promotional material for BC 2012. Winners will receive an autographed box set of the limited edition Bruise Cruise Records vinyl, a tote bag featuring Bruiser Apparel (swimwear & tees), and more. Enter here.
Bruise Cruise videographer, Neal Jonas, headed west to film LA's The Soft Pack on the boardwalk of Venice Beach. The video features a mysterious Mr. Bruise Cruise character and some other personalities at Hollywood's Chinese Theatre. Some video stills below.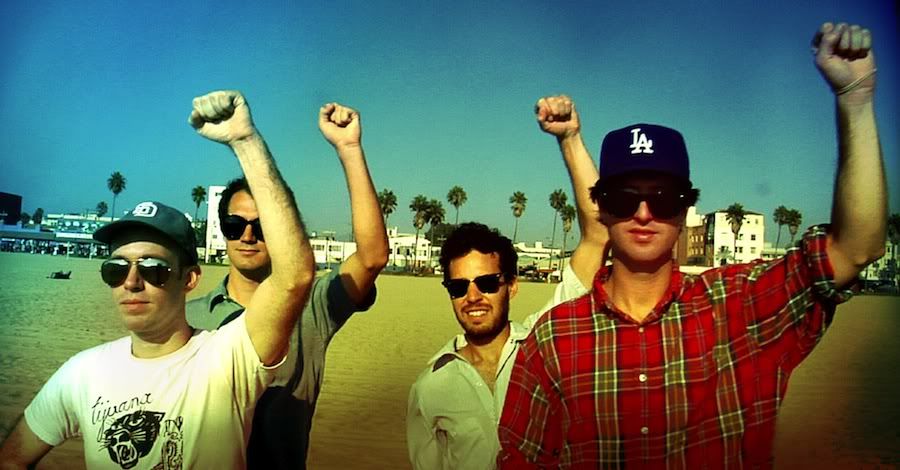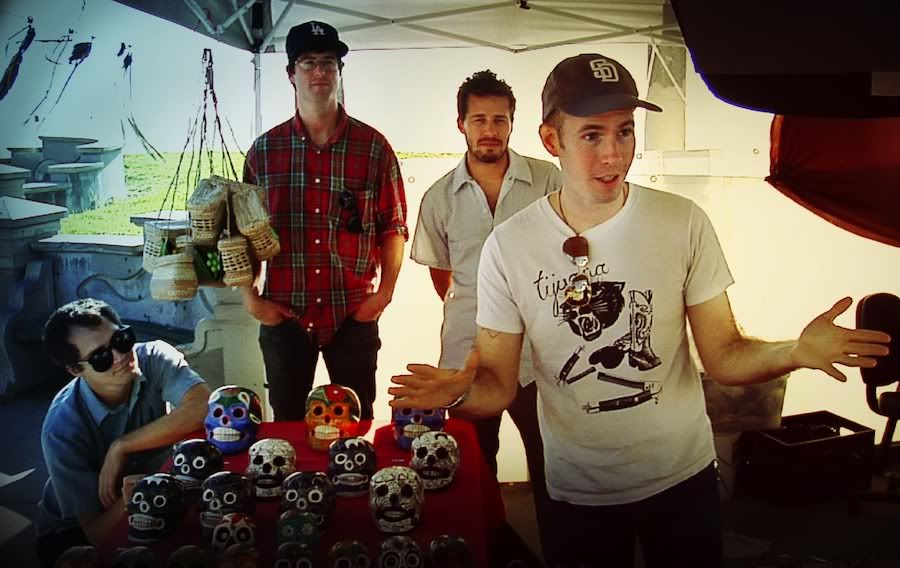 Quintron, one of the artists performing on Bruise Cruise 2012, has unveiled his signature sound system, appropriately titled the Swamp Stack. It will have its world debut on board the ship in international waters. Swamp Stack is the new waterproof mobile sound system built by Quintronics. This custom made 70 volt PA can run up to 50 different speakers at the same time – like a supermarket muzak system on steroids. The subwoofer is built into a huge white shrimp cooler and each speaker cabinet is faced with palm fronds from the streets of New Orleans. "This is how things turn out when you don't have any money and all the hardware stores are closed. Around here we call it "clubhouse style"…like when you have to unscrew screws from the floor of the clubhouse to fix the roof of the clubhouse…and the walls are crooked cuz you ran out of wood. Oh, and it sounds as nasty as it looks…in a good way!" – Quintron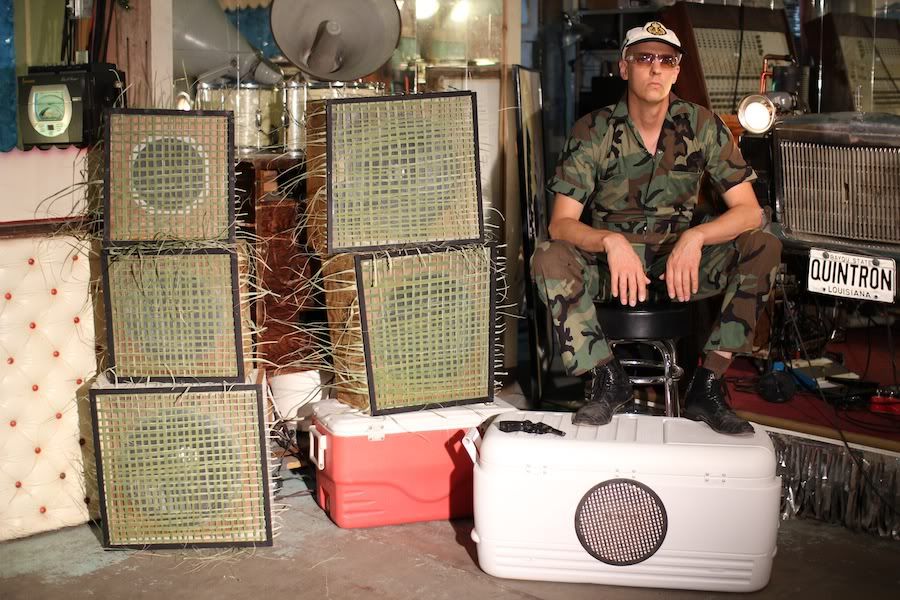 One ticket to the Bruise Cruise not only gets you access to ten concerts on board the ship, it gives you an exclusive pass to a private Bahamas Island Beach Party on Saturday night while the ship is docked in Nassau. The tropical beach party will take place at Señor Frog's, featuring sets from Toronto's Fucked Up, The Soft Pack, & Neil Hamburger. It will also showcase the international debut of The Togas, the super group featuring Ty Segall- and members of the Strange Boys, Reigning Sound, & Shannon and the Clams doing a never before scene set of covers. Songs will be personally picked by Bruisers. After purchasing a ticket, each Bruiser will be able to nominate one song to be performed at sea. The most requested songs will be showcased on the ship for all the harpoons and Moby dicks on board! The Soul Clap & Dance Off competition will follow featuring celebrity guest judges and some of the best dance moves on that side of the Atlantic. Not to mention a ton of shots, shot, shots, and Garage Rock's most wild conga lines.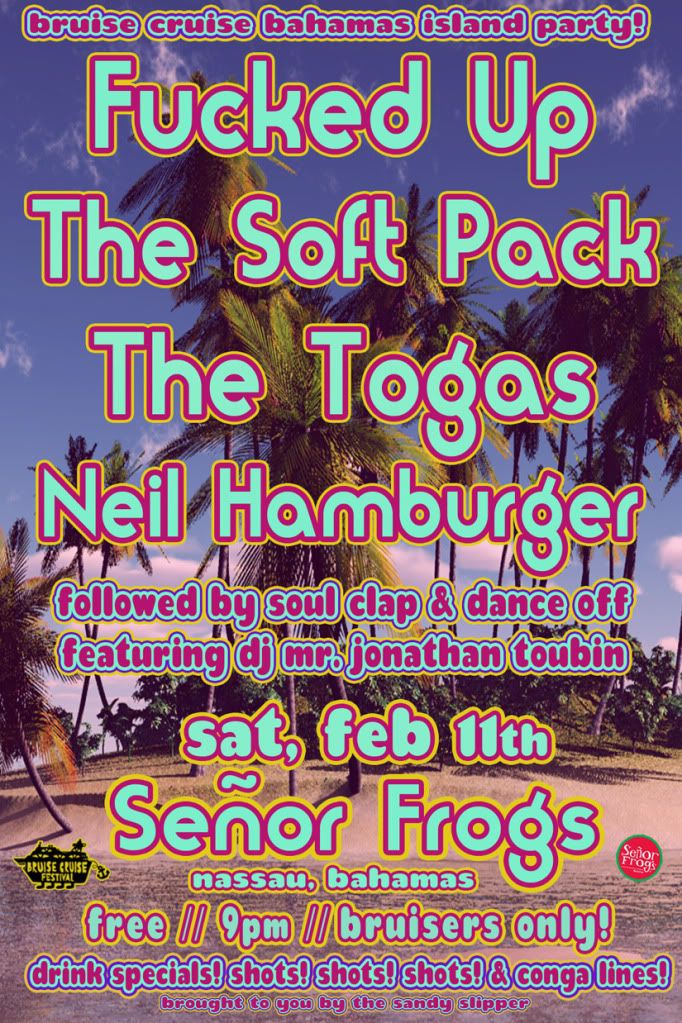 Bruise Cruise will be joining forces with BC co-founders Panache Booking at CMJ this year hosting an official showcase on Saturday, October 22. The lineup features BC 2011 artists Turbo Fruits & Jacuzzi Boys, as well as Panache artists Shonen Knife, Cheeseburger, White Fence, Bleached, & more. RSVP here.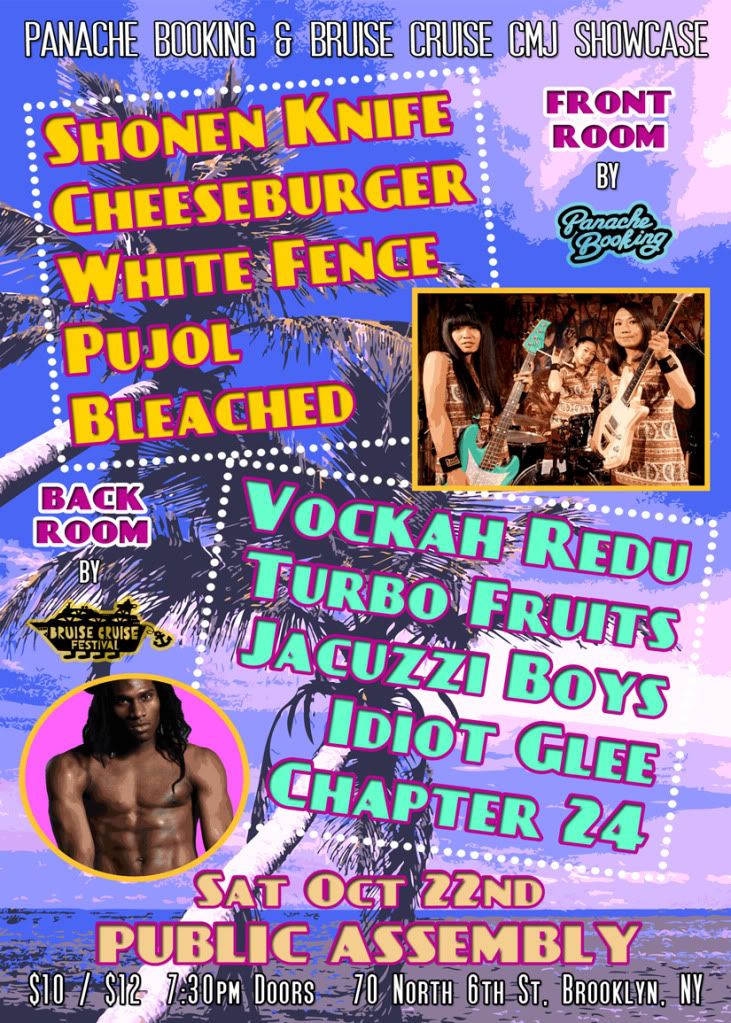 New York Photographer Jackie Roman released a Bruise Cruise Edition photo essay featuring Jared Swilley of the Black Lips on the cover. The photo essay, titled TEENAGE RAMPAGE!, features studied portraits of "Bruisers" in tropical daylight & extraordinary locations shot at BC 2011. Described as a "hedonistic garage-rock media orgy", the essay chronicles what happens when you release 400 garage rockers on a cruise ship. Photos and quotes from artists like the Black Lips, Oh Sees, Ty Segall, and the Vivian Girls are featured.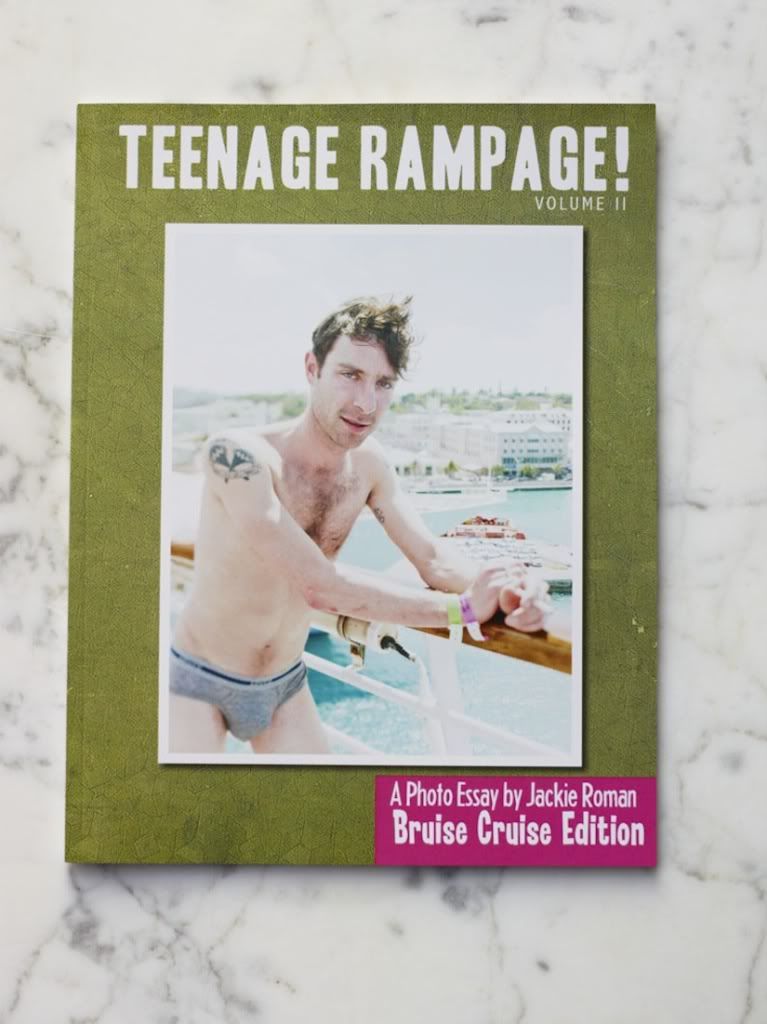 Bruise Cruise now offers an even more affordable deposit option for those who want to guarantee a spot on the ship. You can "Cruise Now and Pay Later" by putting down only $250 on your ticket to reserve the vacation of a lifetime. Solo bookings are also available for potential Bruisers who don't have a travel buddy.
It's no coincidence that Bruise Cruise falls on the weekend of Valentine's Day! Bruise Cruise attracts participants from all over the world who share a common love for rock music and adventure. Our goal is to provide a space that brings together these individuals with similar lifestyles and interests. Last year's cruise led to one successful marriage proposal during a Ty Segall set, and several couples, meeting, falling in love, and now returning for BC2. In 2012, throughout the ship's course, Bruise Cruise will be hosting several events encouraging singles to mingle. We will be announcing these events in the upcoming weeks.
The festival's record label, Bruise Cruise Records, will be releasing yet another round of limited edition vinyl featuring artists from the 2012's lineup. Every attendee will receive one 7" in their complimentary gift bags. The first release will feature an exclusive track by Neil Hamburger and artwork designed by New York artist Rob Corradetti [ http://killeracid.com ]. BC Record's 2011 releases sold out immediately and have since become collector's items. The next ten people who purchase a ticket to the Bruise Cruise will receive a copy of the currently unreleased Neil Hamburger 7". Copies will not be available to the public until after the ship sails. Only Bruisers will have access to the records.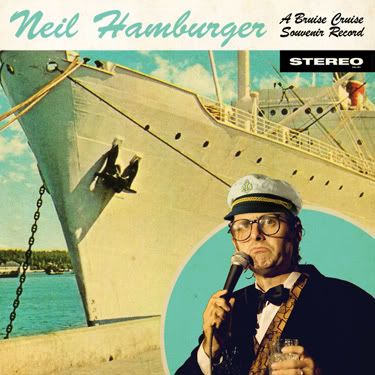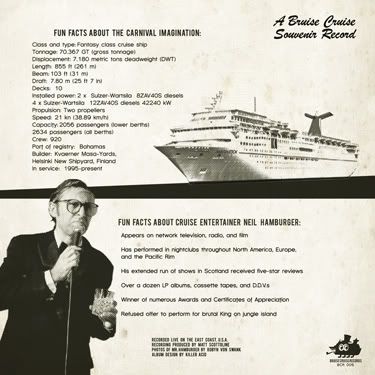 BC2's official lineup will feature Fucked Up, King Khan & The Shrines, The Soft Pack, The Dirtbombs, Thee Oh Sees, Quintron and Miss Pussycat, The Togas, America's funnyman Neil Hamburger, and DJ sets from New York's infamous soul DJ, Mr. Jonathan Toubin & the Vivian Girls. More to be announced soon.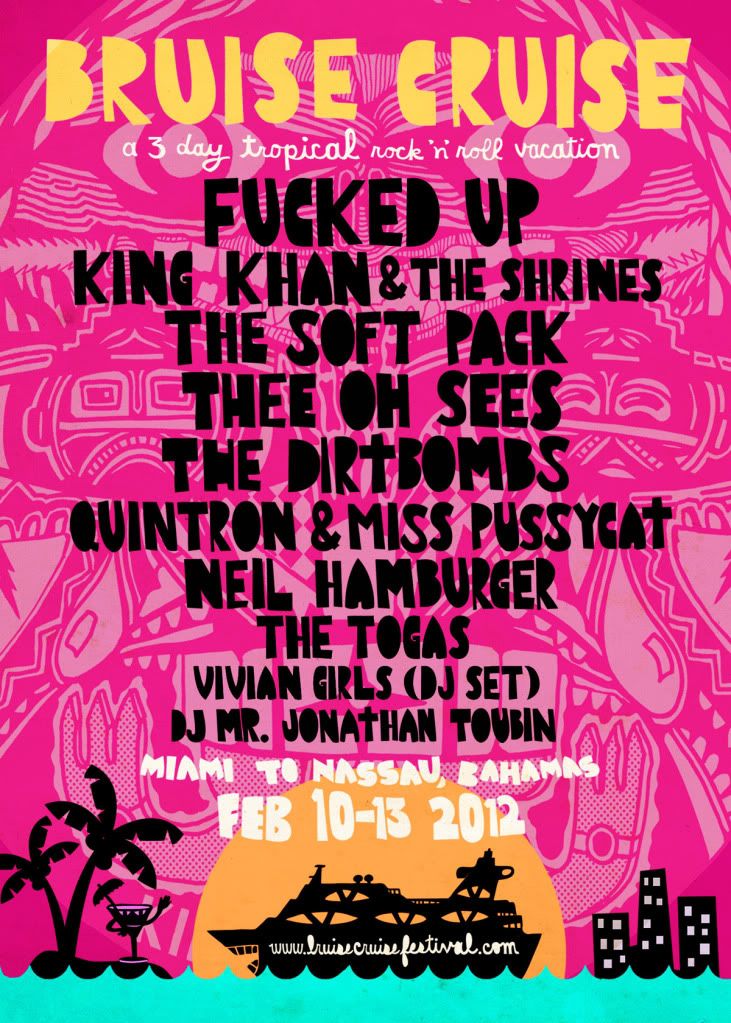 Bruise Cruise is an exclusive chance to experience the ultimate rock music getaway, taking the best elements of music festivals and placing them against the backdrop of a dream vacation. Artists and attendees will set sail on a three-day, tropical boat cruise offering true music fans the opportunity to witness – and lounge with – their favorite bands in a unique, intimate festival atmosphere.
Bruise Cruise 2 will include multiple concerts at sea, a private island party in Nassau, Bahamas, open-bar cocktail hours, a soul dance-off with cash prizes, comedy shows, lectures, workshops, and a puppetry breakfast hour with Miss Pussycat. Amenities featured on board include: A casino, resort-style pools, hot tubs, miniature golf, dance clubs, water parks, fine dining, all-you-can-eat buffets, and more. The price of one ticket will cover all entertainment, lodging, meals, limited-edition vinyl, Bruiser gift bags, and a limited supply of drinks.
Tickets are on sale now. Visit www.bruisecruisefestival.com for more information.
TICKETS ON SALE NOW!
www.bruisecruisefestival.com